CIAT 2019 Technical Conference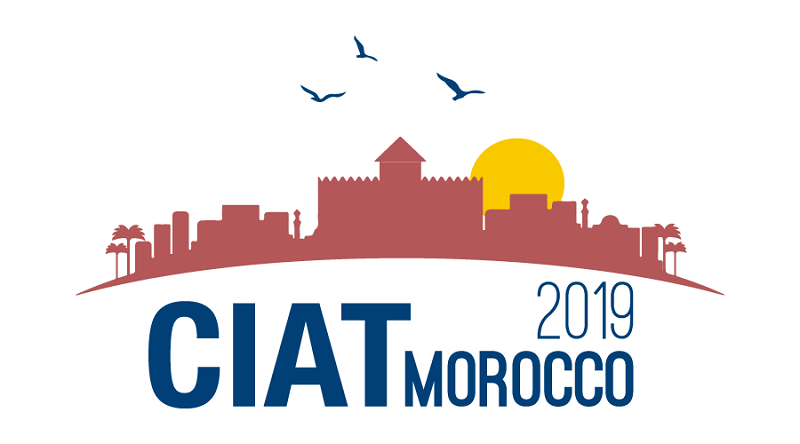 CIAT 2019 Technical Conference

Tax Administration and Development

Marrakech, Morocco,

October 08 – 10, 2019

Presentations in PDF format of the main topics to be discussed during the CIAT Technical Conference, as included in the technical program of the event. These can be consulted through the links indicating the available languages.
Inaugural Conference Tax Administration and Development
CIAT | PPT (SP) (EN) (FR) | – Summary (SP) (EN) (FR)
IMF | PPT (ES) (EN) (FR) | – Summary (SP) (EN) (FR)
PANEL 1: MOBILIZING DOMESTIC RESOURCES
Session 1.1:Tax administration and fight against the Informality (simplified tax regimes for small taxpayers, control strategies of the retail sector; improvements in registration and communication procedures).
Uruguay | PPT (SP) (EN) (FR) | – Summary (SP) (EN) (FR)
India | PPT (SP) (EN) (FR) | – Summary (SP) (EN) (FR)
Canada | PPT (SP) (EN) (FR) | – Summary (SP) (EN) (FR)
Session 1.2: Control and taxation of the digital economy (taxation of online sales, control and taxation of activities carried out through online platforms, taxation of the business benefits of digital companies, etc.)
Chile | PPT (SP) (EN) (FR) | – Summary (SP) (EN) (FR)
Spain | PPT (SP) (EN) (FR) | – Summary (SP) (EN) (FR)
Netherlands | PPT (SP) (EN) (FR) | – Summary (SP) (EN) (FR)
BFA | PPT (SP) (EN) (FR) | – Summary (SP) (EN) (FR)
PANEL 2: ATTRACTING INVESTMENT IN THE NEW CONTEXT OF INTERNATIONAL TAX GOVERNANCE
Session 2.1: Tax certainty and conflict resolution mechanisms, at the national and international levels (APAs and MAP)
USA | PPT (SP) (EN)) (FR) | – Summary (SP) (EN) (FR)
FTA-OECD | PPT (SP) (EN) (FR) | – Summary (SP) (EN) (FR)
France | PPT (SP) (EN) (FR) | – Summary (SP) (EN) (FR)
Session 2.2: MECHANISMS AND WAYS TO PROMOTE THE COOPERATIVE COMPLIANCE OF LARGE COMPANIES AND MULTINATIONAL CORPORATIONS
USA | PPT (SP) (EN) (FR) | – Summary (SP) (EN) (FR)
Spain | PPT (SP) (EN) (FR) | – Summary (SP) (EN) (FR)
PANEL 3: THE EFFICIENCY OF TAX ADMINISTRATION FOR DEVELOPMENT
Session 3.1: Efficiency of the administration in mobilizing public resources: improvements in the management of taxes, fight against fraud and effective collection
Argentina | PPT (SP) (EN) (FR) | – Summary (SP) (EN) (FR)
Paraguay | PPT (SP) (EN) (FR) | – Summary (SP) (EN) (FR)
IEF | PPT (SP) (EN) (FR) | – Summary (SP) (EN) (FR)
Portugal| PPT (SP) (EN) (FR) (PO) | – Summary (SP) (EN) (FR)
Morocco| PPT (SP) (EN) (FR) | – Summary (SP) (EN) (FR)
Sesión 3.2: Session 3.2: The use of new digital technologies. The analysis of new databases and Big Data. The use of the mechanisms for informaation exchange
Chile | PPT (SP) (EN) (FR) | – Summary  (SP) (EN) (FR)
Canada | PPT (SP) (EN) (FR) | – Summary (SP) (EN) (FR)
Mexico| PPT (SP)(EN)(FR) | – Summary (SP) (EN) (FR)
CIAT Presentations: