Seminar on Electronic Invoicing in Latin America
National Superintendence of Tax Administration – SUNAT and the Inter-American Centre of Tax Administrations – (CIAT) have conducted at the headquarters of the Institute of Tax and Customs Administration in Chucuito, Callao, a seminar on Electronic invoicing, in which were presented various experiences of implementation of electronic invoicing systems in Latin America.
The event counted with the participation of specialists in the field from Brazil, Chile, Mexico and the Executive Secretariat of the CIAT. Among the participants, in addition to the staff of the SUNAT, officials of the tax administrations of Bolivia, Honduras and Uruguay were attending.
Participants expressed a high interest in the subject and hope to implement the concepts and good practices of electronic invoicing development in the near future.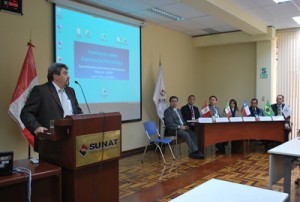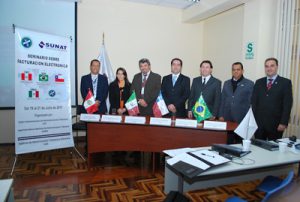 Pictured are the speakers of the Seminar on Electronic Invoicing in Latin America
from left to right: :César Luis Perales Telles, Mexico; Gisella Cuentas Pardo, Peru; Raúl Zambrano, CIAT; Cristian Paz Guzmán, Chile; Newton Oller de Mello, Brasil; Eudaldo Almeida de Jesús, Brasil; y  MarceloLuis Alves Fernandez, Brasil.