The CIAT Executive Secretary participated in the plenary meeting of ENCAT, which also celebrated the 10 billion electronic invoices record
The CIAT Executive Secretary, Mr. Márcio Ferreira Verdi participated in the 53rd National Meeting of State Coordinators and Administrators (ENCAT), on September 25 and 26, 2014 in the city of São Paulo, Brazil.
In this meeting the CIAT Executive Secretary presented a paper on the "The Challenges of the Tax Administrations" and was also awarded by ENCAT a plaque in recognition of his permanent support to the Tax Administrations of Brazil, as well as for promoting fiscal cooperation throughout the world.
In this regard, Mr. Verdi said "it was an excellent opportunity to see how the Brazilian states, together with the Secretariat of Federal Revenues of Brazil, while abiding by the respect for the autonomy of the entities of the federation had successfully achieved fiscal cooperation, developed an exemplary electronic invoice model and reached a record of over 1 million issuing taxpayers and over 10 billion authorized documents".
The General Coordinator of ENCAT, Mr. Eudaldo Almeida De Jesús, pointed out "that CIAT's support and its working model had been ENCAT's inspiration for cooperating, as well as its studies which are a great source of knowledge of tax administration for our members".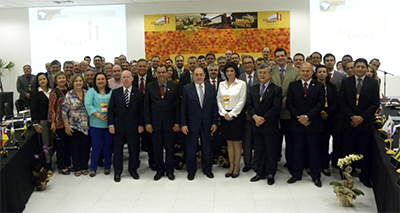 Picture: View of participants