Seminar on Invoicing In The Tax Administrations
The importance of controlling invoicing in the tax administration and the experiences of the countries of the region in implementing various invoicing systems, including fiscal equipment and electronic invoicing  were the topics covered at the "Invoicing Control Systems and Electronic Invoicing in the Tax Administrations" Seminar held for two days in Panama.
The event was inaugurated by Mr. Márcio Verdi, Executive Secretary of the Inter-American Center of Tax Administrations (CIAT), Luis E. Cucalón, General Director of Revenues of Panama and Oscar Vásquez, CAPTAC-RD tax specialist.
Representatives from the tax administrations of Central America and the Dominican Republic, as well as speakers from the Secretariat of Revenues of Brazil, the Internal Revenue Service of Ecuador and the Tax Administration Service of Mexico participated in this seminar.
The seminar was organized by the Regional Technical Assistance Center of Central America, Panama and the Dominican Republic (CAPTAC-RD) and the Inter-American Center of Tax Administrations (CIAT), with the collaboration of the General Directorate of Revenues of Panama. Panama is about to adopt the fiscal equipment as main means of invoicing, for the purpose of strengthening the control of invoicing and promoting tax evasion reduction.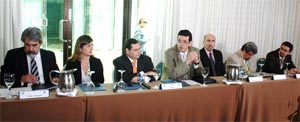 In the picture from left to right: Mr. Oscar Vázquez, CAPTAC-DR Tax Specialist; Ms. Marisel Della Togna, Deputy General Director of Revenue of MEF; Mr. Luis Cucalón, Director General of Revenue of MEF; Mr. Márcio F. Verdi, CIAT Executive Secretary; Mr. Socorro Velázquez, CIAT International Assistance and Cooperation Director; Mr. Raúl Zambrano, CIAT Technical Assistance Manager and Mr. Roberto Cartagenova, Head of Tax Services Programming of Ecuador.