Support for the Digitalization of the Tax Administrations of Developing Countries in the Latin American and Caribbean Region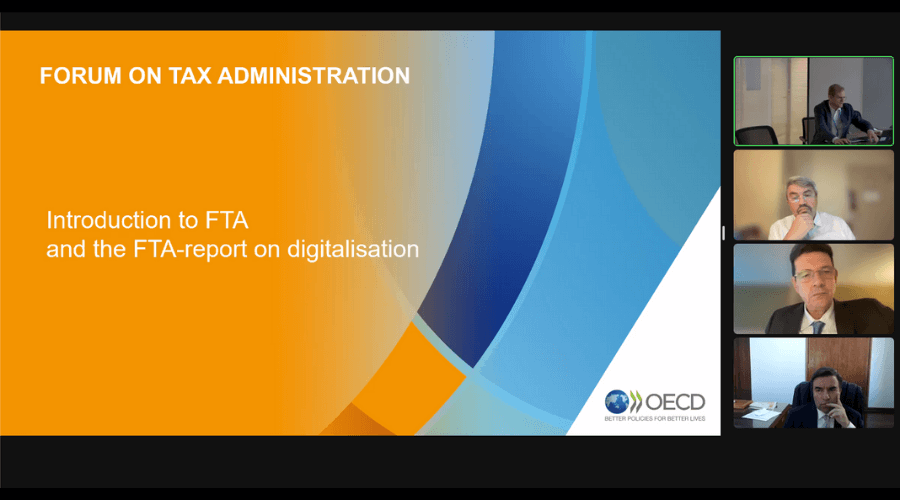 On Tuesday, April 5, CIAT and the OECD's Forum on Tax Administration (FTA) held a workshop on the support of the digitalization of tax administrations in developing countries in the LAC region.
On behalf of the FTA, Mr. Vegard Holmedahl opened the event by presenting the report on digitalization in developing countries. This report seeks to motivate and help tax administrations to be more efficient and effective in their digitalization process, promote guidelines for the programs from a strategic vision and identify opportunities for digitalization. Click here to download the English version of the document.
Then, the CIAT Executive Secretary, Mr. Marcio F. Verdi, led the panel on "Benefits and Challenges of Tax Administrations", with the participation of the highest authorities of the Internal Revenue Service of Chile and the National Tax and Customs Directorate of Colombia. In this interesting panel, Mr. Hernan Frigolett C. told us that one of the main objectives of the SII in the coming years is to be a 100% digital agency, in order to offer fast and efficient services that allow taxpayers to comply. He also mentioned that in four days, 700,000 pre-filled income tax returns have been accepted, which is equivalent to 25% of the people who must file this procedure. For his part, Mr. Lisandro Junco R. told us that the DIAN in the last 4 years has conducted a process of modernization, modernizing not only the technology but also the processes, which has allowed that in 2021 and 2022 there will be an increase in tax collection of almost 30%. it is important to mention that the taxable base has not been increased, but that work against evasion has been effective. At the end of this panel, for CIAT, Mr. Raul Zambrano spoke about the importance of the human talent of these tax administrations to conduct this digital transformation.
Next, on behalf of the OECD, Mr. Oliver Petzold offered a presentation of the document "Tax Administration 3.0 and the Digital Transformation Maturity Model." Finally, for CIAT, Mr. Santiago Díaz de Sarralde spoke about the INDETEC report.
The event was attended by more than 170 officials from the tax administrations of Argentina, Brazil, Chile, Colombia, Costa Rica, Dominican Republic, Ecuador, Guatemala, Honduras, Mexico, Morocco, Peru and the Federation of St. Kitts and Nevis.