SII of Chile receives specialized advice within the framework of the EUROsocial II Programme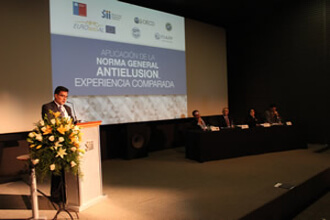 From 26 to 29 October 2015, CIAT has coordinated a specialized counseling service for the Servicio de Impuestos Internos (SII) of Chile on the interpretation and application of the New Anti-abuse Rules, integrated in the tax code. The assistance was conducted by experts from the General Directorate of Public Finance (DGFiP) of France and from the HM Revenue Customs (HMRC) of the United Kingdom.
Several workshops were developed with the goal that each expert would meet with the three divisions of the Internal Tax Service of Chile directly involved in the enforcement and implementation of the new anti-avoidance rules included in the tax reform of 2014, law N ° 20.780.
On October 28 the international seminar "application of the General Anti-Avoidance Rule, comparative experiences" took place, with the participation of prominent foreign speakers in addition to authorities, Business leaders, Presidents of Union Associations, Law Firms, Tax Consultants and representatives of Study Centers and Universities. The objective of the seminar consisted in performing a comparative view on the General Anti-Avoidance Rule at the level of countries of the region and those belonging to the OECD, in order to know their experience on this issue. The seminar was structured based on two panels: "General vision, regional vision and recommendations" and "Experiences". The first of these was attended by David Bradbury, of the Organization for Cooperation and Economic Development; Gonzalo Arias, of the inter-American Center of Tax Administrations; and Katherine Baer, of the the International Monetary Fund. Meanwhile, the second panel was attended by Laurent Amalric, Direction Générale des Finances Publiques, France; Ellen Roberts, HM Revenue & Customs, United Kingdom; and Victor Villalón, Internal Tax Service, Chile.
This activity is part of the voluntary compliance with tax obligations action in the area of public finances of the EUROsociAL II program, funded by the European Union, coordinated by the FIIAPP and in which the Agencia Estatal de Administración Tributaria of Spain (AEAT) and the Inter-American Center of tax administrations (CIAT) act as operational partners.